Vacation Homes for Rent
Be sure to ask about renting our WaveRunners on Yuba Lake!
"The Lighthouse" at Yuba Lake is newly constructed established 2020. Amazing warmer water lake property with 175′ of private beachfront with boat dock and waverunner ports. 7 night stays get additional discounts. This is an amazing 5-acre property you will never forget. Great for family reunions and something for everyone and especially the kids: the lake for the aquaphiles and fisherman, private boat dock for the captains, beach for the sun lovers, UTV and hiking trails for the outdoorsman, supplied floating island mat, kayaks, and paddleboards for the thrill seekers, RV pads with fire pit for the campers, wildlife for the hunters, amazing 360 degree views for the sightseers, gourmet viking kitchen for the cooks, BBQ smoker for the pitmaster, ice cream maker for the living, tons of fun activities ( ping pong table, corn hole boards, game table, arcade, horse shoes, boards games, ect…) for the gamers, Nespresso, and coffee machines for the early risers, pebble ice machine for the boss, and best of all, is the covered deck to watch all of these activities for the relaxion enthusiasts.
8 bedroom 6 bath 4500 sf plus 800 sf of deck plus 800 sf patio, Air conditioning, master shower has 3 shower heads, full gourmet kitchen viking appliances, pellet grill, laundry, scotsman pebble ice machine, bidet, large island. Beachfront included 30 yards from the deck to the water. Dock your boats and waverunners right on our private beach/boat dock. The State Park yuba Oasis Marina is a quarter mile away.
Updated pictures are coming soon… These pictures show the lake at 9 percent full. There is still plenty of water in low water years. We have updated with a new boat dock with 4 waverunner ports.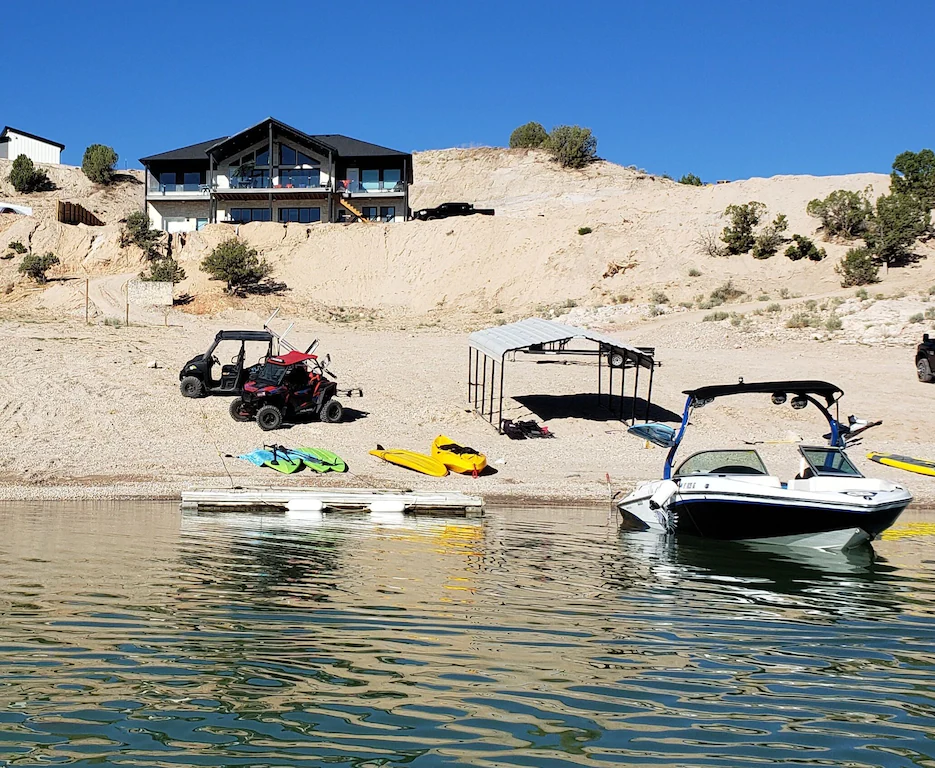 House
8 bedrooms
6 bathrooms
Spaces
Kitchen
Living Room
Deck/Patio
Not ready to book?
Just use the form below, and we'll get right back to you.
We just need a few details about what you would like to rent, and when your off-road adventure begins…